Baltimore & Ohio RR Historical Society projected events for 2019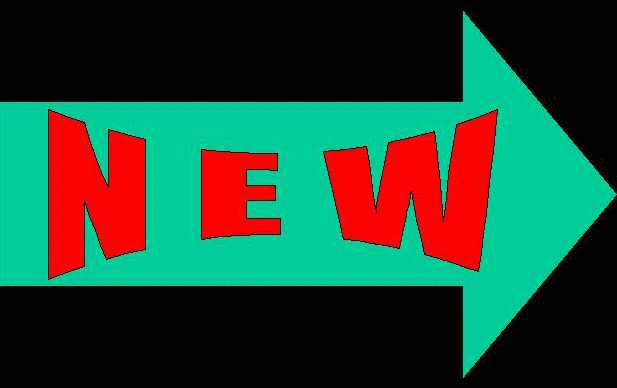 -->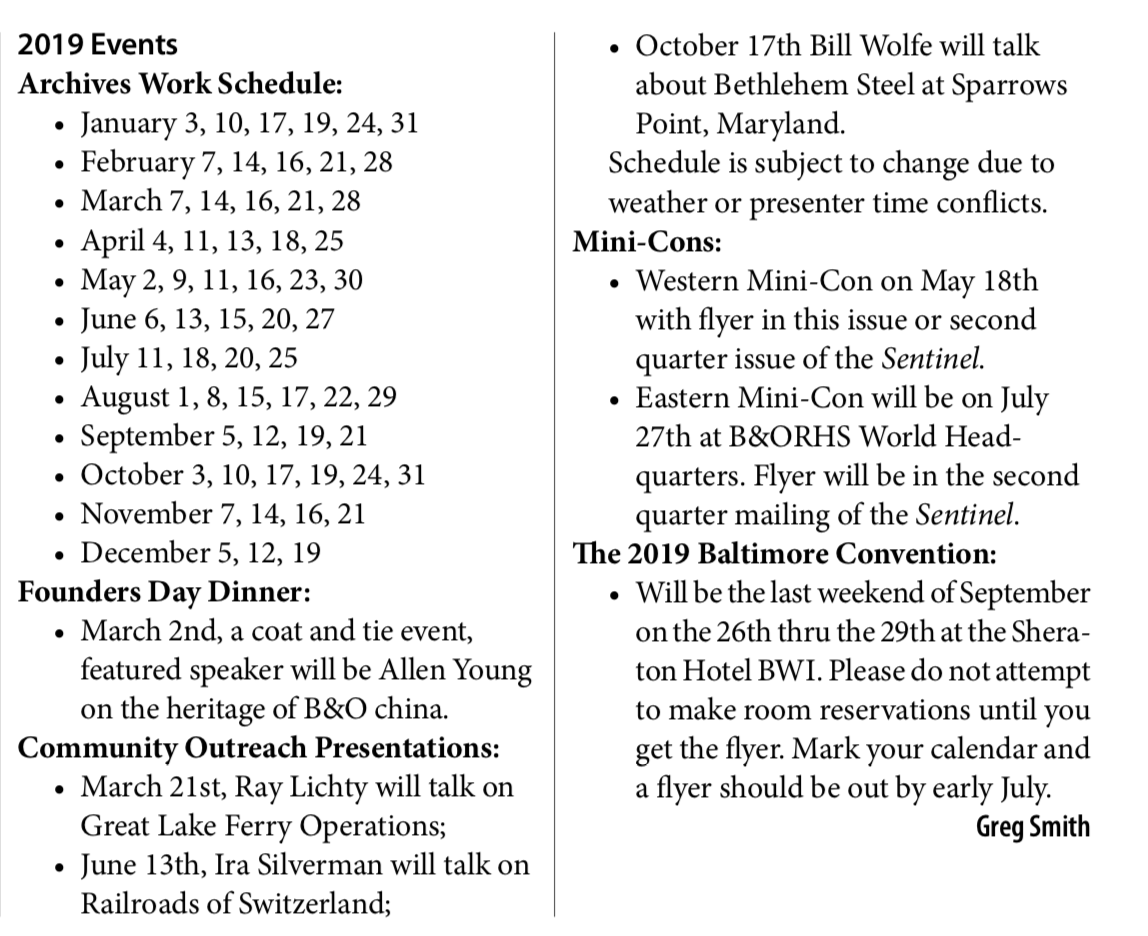 The 1st Quarter of the Sentinel Magazine published the events that the Society has planned for 2019. To see a copy, just click here. Mark any events that you may be interested in attending on your calendar.
The 1st Quarter 2019 of The Sentinel magazine has been published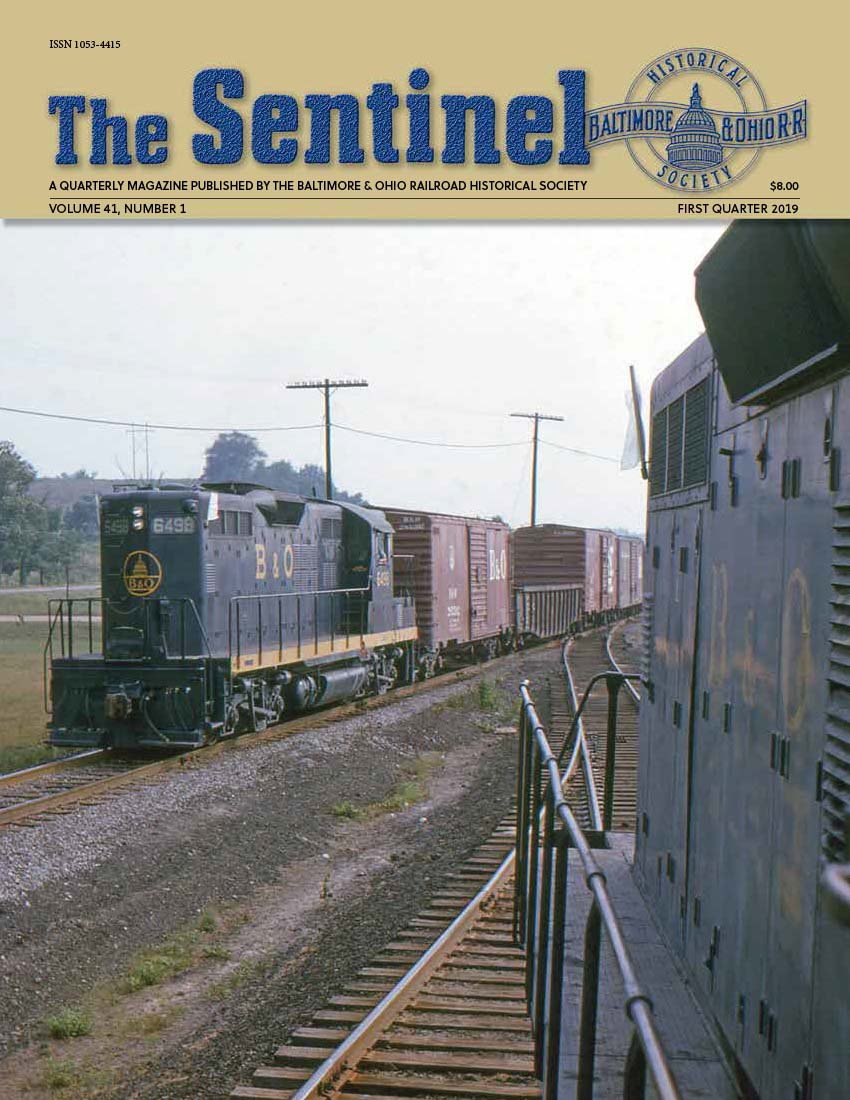 The 1st Quarter 2019 of The Sentinel magazine has been mailed to members early January 2019 who are receiving the paper copy. The digital copy was emailed to all registered subscribers during the Christmas holidays. You may want to also go to our Company Store to check and see what back issues are still available. While you are at it, please be aware that we have most issues on CDs broken down by decade. The issues on these CDs are in PDF format that must be viewed on computer. While in the Company Store, please check on the Sentinel link in the left margin of our Company Store for a listing of all magazines that are still available in hard copy. You can also order the CD or CDs from this link as well.
Issue 47 of the B&O Modeler Magazine now available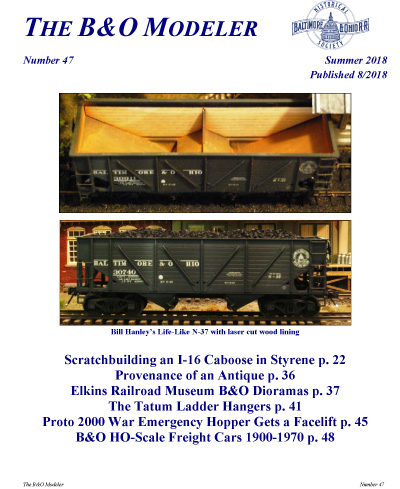 Issue 47 of the B&O Modeler Magazine has been published. You can see the new issue by clicking on the picture to the left, or by going to the Modeler Magazine link in the Navigation Bar at the top of this page. A new Modeler index is available at this link.
Baltimore & Ohio Railroad Historical Society Artist Website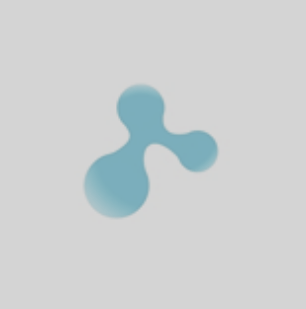 The Society has an agreement with the Pixels.com website to sell Baltimore & Ohio Railroad artwork on a multitude of items ranging from clothing, coffee mugs, beach towels, tote bags, and many more. Perfect for gifts to anyone interested in railroading, present or past. Take a look at what is offered at this unique artist website.
Easy Way to Change Your Address. Members can change their mailing address by email if they want to save postage and for added convenience. Did you know that you can also change your email address by using the same method? Keeping a current email address on file is important as it is a quick way to check with you if there is a question on a Company Store order, a renewal, or for any other issue that may arise. We recognize that people move, and that may also mean that your email address changes as well. So in addition to sending in your mailing address by email, please let us know if your email address will be changing as well. To send in any changes, please click on the following link and don't forget to include your member number. Click here to let us know your new moving or email address.
Sentinel Delivery Options. We have different ways you can receive your quarterly magazine, The Sentinel. You can get your copy the traditional way by hard copy through the postal service. You can opt for a digital copy in place of your hard copy. Or, you can now opt for both methods of delivery for an additional fee of $10.00. To find out more about your delivery options for our magazine, The Sentinel, go to our Sentinel link. As of October 1, 2017, we have 80 members receiving the digital download of our magazine. A great number of our digital subscribers are also receiving the paper copy through the mail.
New B&ORR Historical Society home - Our Society has a new home located at 5745 Bartholow Rd, Eldersburg, Maryland, 21784, telephone 443-398-8166.
---