Western 2017 Mini-Con at Willard
Here is a HEADLINER FLYER for the 2017 Ohio Mini-Convention set for Saturday, May 20, 2017 at the Willard Depot Museum in Willard, Ohio. More information will be provided as it becomes available.
3rd Quarter of The Sentinel magazine has been published. A paper copy is available for sale at $8.00 each. The electronic version is now available for download. A copy of the Sentinel inserts are also available for download. Here is a low resolution copy of 6 pages from this edition. Page two of this sample has a table of contents showing all the topics covered by this edition.
The B&O HS 300 Club has been established for anyone who wants to make a one-time donation of $300 to the Baltimore and Ohio Railroad Historical Society Archives Building Fund. See our Donations module for further information and a form to submit with your donation.
The B&O Railroad Historical Society has a new home
In the Spring of 2016, the Baltimore and Ohio Railroad Historical Society purchased a 9,600 square foot building in Eldersburg, Maryland, to house the archives and historical legacy of the Baltimore & Ohio Railroad, perform research on the history of the B&O, produce publications for the Society, and conduct sales of historical or historically related B&O products. The new building is a masonry block structure built in the 1950s. There is space for over 40 cars to park. Upgrades to the building have been done over the years as the use and purpose changed over its lifetime. To make the building and spaces suitable for Society use, there are structural repairs, both inside and out, as well as extensive refurbishing required to get the building up to a lever that permits productive use by us. We now have space that triples storage for archives material, a separate office, space for the company store, general storage space, and an auditorium for meeting and possible mini-cons. Financial assistant from members and others is always welcome to help support this effort. Donations are tax deductible and can be submitted to the Society following guidelines provided in our Donations link here.
Baltimore & Ohio Railroad Historical Society is always looking for new candidates for next year's Board of Directors
The Society has 6 Directors at Large that hold office for a three year term. Two directors are reappointed or are selected new each year. For this coming year beginning at the end of this year's 2016 Society conference, both director positions will be vacant.


This is a call for anyone interested in serving on the Baltimore & Ohio Historical Society Board as a Director at Large to submit your name for consideration. This is an exciting time for all of us that have been serving for the past several years. Why not join our team and help us out. If interested, please send an email to elections at BORHS.org and ask to join the team. Please include a short bio with your application.
The convention will start on Thursday September 15 and end on Sunday September 18. The headquarters hotel is the Adams Mark Buffalo on 120 Church Street, Buffalo, NY 14202. It is located in downtown Buffalo near the lakefront. Group rates will be honored three days before group arrival and three days after group departure based on availability. The hotel will be the location for registration, presentation and the Company store.


Here is a FLYER for our annual convention containing a list of events as well as a registration form.


The Society room rate will be $99 per night plus taxes for a Deluxe Double room. Please state the reservation is for the "Baltimore and Ohio Railroad Historical Society" block of rooms when you make your room reservation in order to get the room rate. You should call the hotel directly at 716-845-5100.


The Friday tour will start at the location of the former B&O/ BR&P Ganson Street yard and coal pier and visit station locations between Buffalo and Salamanca, New York. This will include the tower at Ashford Junction. On Saturday, the tour will visit B&O/BR&P facilities in Rochester, NY and stations on the Rochester sub-division. On Thursday and Friday, there will be three presentations each night and a presentation at the Saturday banquet. On Sunday, the Heritage Discovery Center will be open for the Society. It has the Western New York Railway Society museum and the Steel Plant museum.


For your viewing enjoyment, here is a link to the Western New York Railway Historical Society located in Buffalo.
The February 2016 Society Board of Directors Meeting Minutes are now available for viewing.
Easy Way to Change Your Address. Members can change their mailing address by email if they want to save postage and for added convenience. Did you know that you can also change your email address by using the same method? Keeping a current email address on file is important as it is a quick way to check with you if there is a question on a Company Store order, a renewal, or for any other issue that may arise. We recognize that people move, and that may also mean that your email address changes as well. So in addition to sending in your mailing address by email, please let us know if your email address will be changing as well. To send in any changes, please click on the following link and don't forget to include your member number. Click here to let us know your new moving or email address.
Index for Sentinel magazines. Here is an up to date index of the topics that have appeared in the past in our The Sentinel magazine and its predecessors. Please go to our Company Store to check and see what issues are still available. While you are at it, please be aware that we have most issues on CDs broken down by decades. The issues on these CDs are in PDF format to be viewed on computer. While in the Company Store, please check on the Sentinel link in the left margin of our Company Store for a listing of all magazines that are still available in hard copy. You can also order a CD or CDs from this link as well.
We have several ways you can receive your quarterly magazine, The Sentinel? You can get your copy the traditional way by hard copy through the postal service. You can opt for a digital copy in place of your hard copy. Or, you can now opt for both methods of delivery for an additional fee of $10.00. To find out more about your delivery options for our magazine, The Sentinel, go to our Sentinel link.

---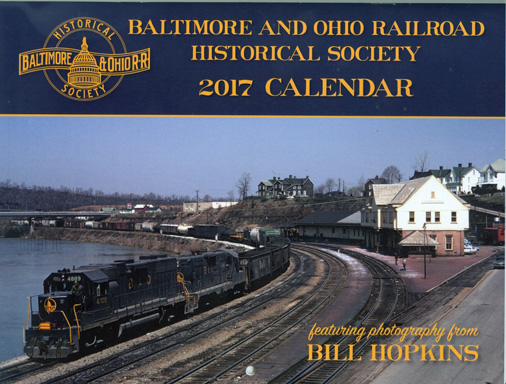 New 2017 Calendar- For 2017, the B&O Railroad Historical Society has produced another great calendar featuring photography from Bill Hopkins and captions from the history of the B&O Railroad lines in Maryland, West Virginia, and Pennsylvania. Click on the thumbnail picture to the left for a sampling of the photos in the calendar. To purchase a new calendar for 2017, please see stock # 22017 in the Calendar link of our Company Store.