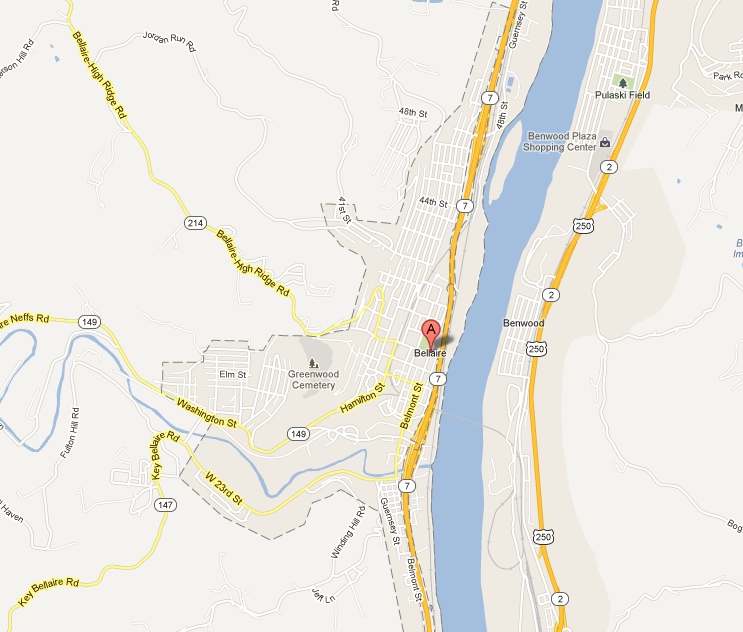 The Second Annual Great Stone Viaduct Celebration is scheduled for Saturday, September 28, 2013, and is offering another great lecture series that may be of interest to B&O Railroad Historical Society members. Here is a press release announcing the celebration and providing information on the guest speakers. Here is a link to their web site. Here is a flyer for the September event.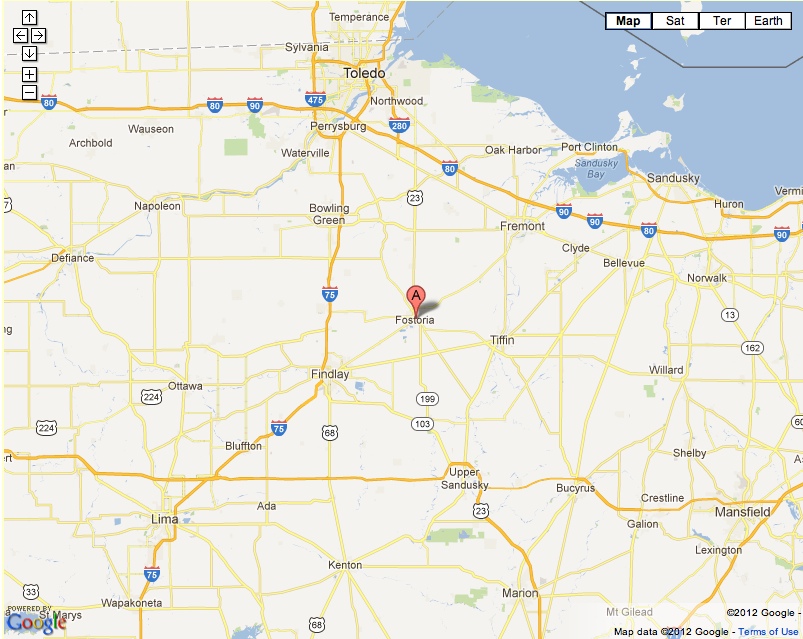 Western Mini-Con Updated Flyer as of March 10, 2013. Each year during May, the western contingent of the Society holds a mini-con in Ohio. The 2013 Western Mini-Conference will be held May 18, 2013, in Fostoria, OH. The mini-con will feature guest speakers on topics of interest to B&O enthusiast as well as merchandise sales. Here is a copy of the flyer with conference details for you to look at. For questions about future conferences, contact the conference coordinator at Ohiominicon. Where is Forstoria? Only one of the best train watching sites in Ohio. The train watching opportunities are worth the trip alone. Click the picture to the left for a virtual map of Fostoria, Ohio.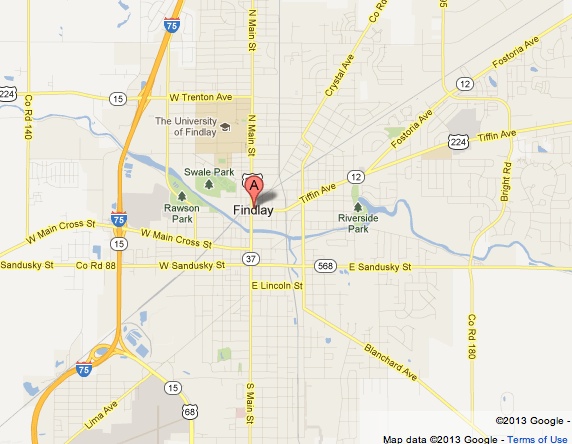 Latest information on the Society 2013 Annual Convention - Will be held October 3-6, 2013, in Findlay, Ohio. This convention will concentrate on sites with B&O significance located in Northwestern Ohio. More details will be provided as information and plans are firmed up. Click the picture to the left for a virtual map of Findlay, Ohio.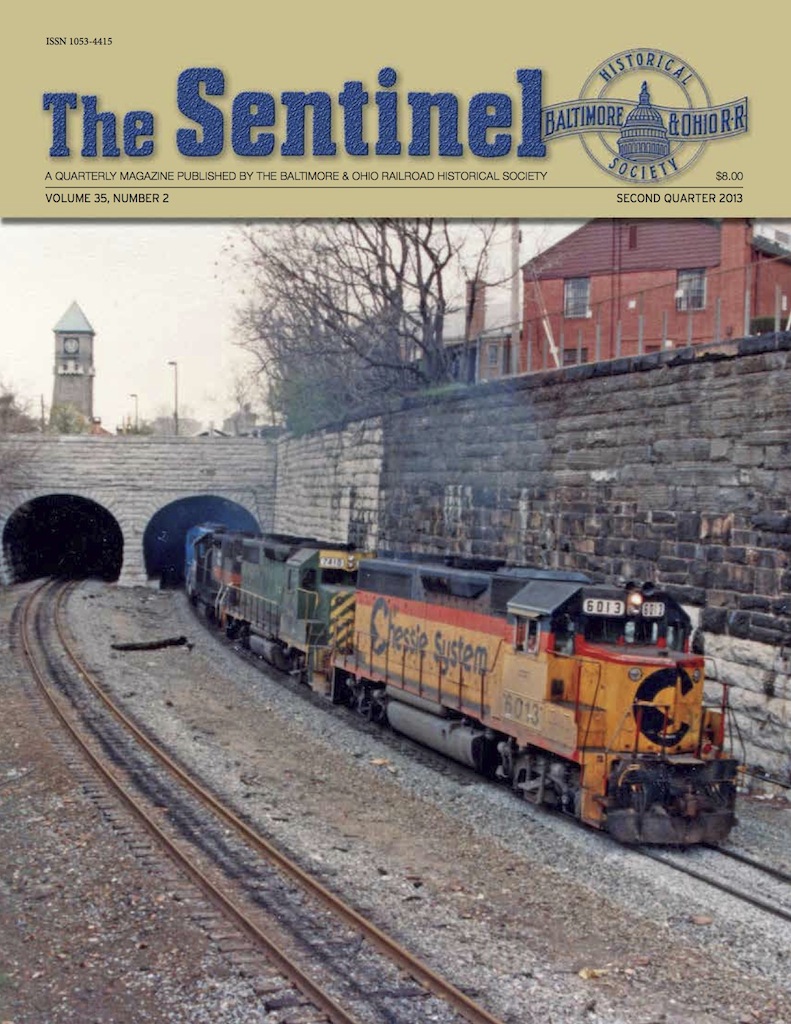 The 2nd Quarter of the Society's The Sentinel magazine has been published. Subscribers to the electronic version may download their copies. Members receiving a hard copy through the Postal service should have received their copy by now. You may click on the photo to get more information on what is contained in this edition.
Did you know that we have several ways you can receive your quarterly magazine, The Sentinel? You can get your copy the traditional way by hard copy through the postal service. You can opt for a digital copy in place of your hard copy. Or, you can now opt for both methods of delevery for an additional fee of $10.00. To find out more about your delivery options for our magazine, The Sentinel, go to our Sentinel link.
Policy Change for members receiving their copy of The Sentinel electronically (eSentinel). Effective immediately, members who convert to receiving their quarterly Sentinel magazine electronically instead of getting a hard copy through the mail can now revert back to hard copy in the future if desired. Previously, when a member once converts to a digital copy, reverting back to hard copy was not an option. This authority to revert back to hard copy also applied the the many members who have already converted to the digital copy as well as members who convert in the future. This change was implemented at the request of members who are excited about availability of an electronic copy but were reluctant to convert with a "no return" policy. See the Magazine link for more detailed information.

your address change to us electronically to insure that you get the latest The Sentinel magazine delivered to your new address, and all the other flyers the Society sends out from time to time, and to insure that your correct information is in our Company Store purchasing module to insure appropriate member discounts. Make sure you include your member number.
---
ADVANCE ORDER - CLASS I-12 CABOOSE
The first 100 I-12 wagontop cabooses (2400-2499) were built by the B&O Keyser Shops in 1941. The second batch of 25 cars (2800-2824) were built in 1945 also at the Keyser Shops. All I-12s had all-steel underframes, Duryea draft gear, and steel bodies. These models are ready to run in HO scale with wire grabs, metal wheels, and Kadee couplers. This is an advance order with delivery expected in the fall of the year. This is the second run of these outstanding Spring Mills Depot cabooses. The first run sold out quickly. Do not wait. Get your order in as soon as you can. Because this is a special purchase by the Society, the attached order form must be used for this purchase. Click on the photo at the beginning of this paragraph to see the order form. Print it out; fill it out; mail it to the address provided at the end of the form. Also, see the Models link in our Company Store to find out more about each category of caboose.

AAR 70 ton flat car modified with bulkhead ends. RTR HO. Various road numbers. BLT 2-51 WA 3-65. Finely molded bulkhead bracing; wire grab irons; painted black with white lettering; deck is laser-etched natural weathered wood. Equipped with metal wheelsets and Kadee couplers. See stock numbers 33333 through 33338 in the Models link in our Company Store.

53' 6" AAR 70 Ton Flatcar, with Capitol Dome. RTR HO. Various road numbers. NEW 12-53. Wire grab irons; painted black with white lettering; deck is laser-etched natural weathered wood. Equipped with metal wheelsets and Kadee couplers. See stock numbers 33327 through 33332 in the Models link in our Company Store.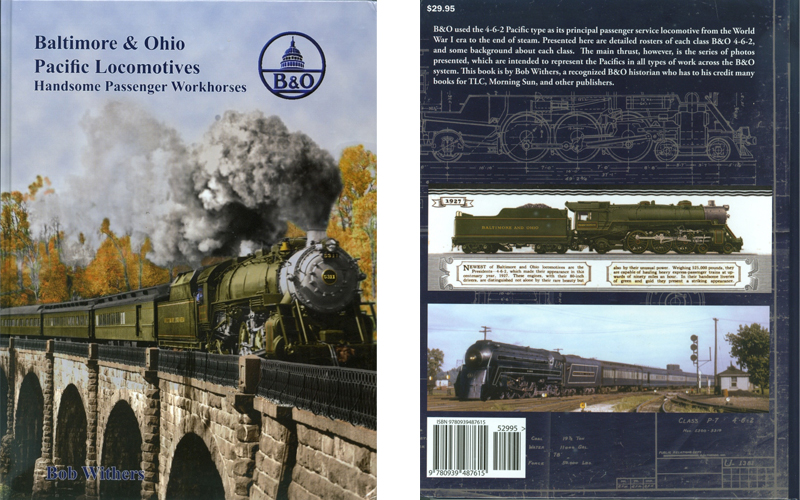 New Book added May 9th - "Baltimore & Ohio Pacific Locomotives" by Bob Withers. This book presents the history of the 4-6-2 Pacific-type locomotives used by the B&O from early in the 20th Century to the end of steam. Included are detailed rosters of each sub-class, diagrams, and historical text. The photos show these Pacifics in all their duties across the entire B&O system. 96 pp, B/W photos. The book has been reviewed for accuracy by several knowledgable Society members. To order, please see stock # 10137 in the Books link of our Company Store.